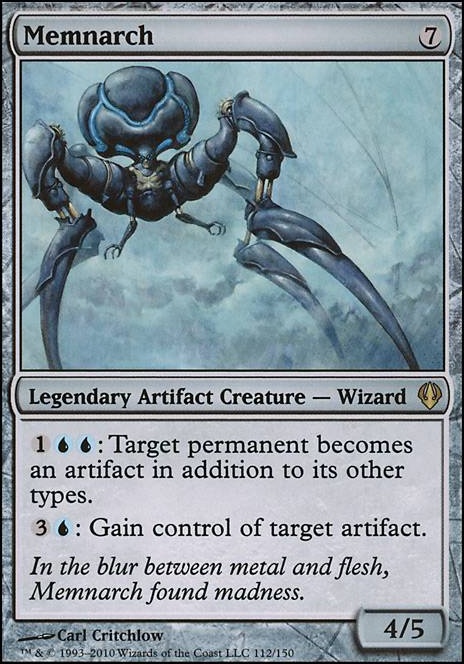 Decklist: https://tappedout.net/mtg-decks/memnarched/?cb=1607710253
---
Power Level: 11.75
This is my pride and joy, the deck that best represents my passion for Magic the Gathering. Memnarch was the first foil legendary creature I drew, and remains my favorite character in the lore.
What's easier than having an awesome mana sink that's always available to you? Just make infinite mana and take all their stuff. Control, Card Draw, and Tutoring helps you get there, since you have to get your combo pieces and survive along the way. Counterspells are notoriously difficult to play in a game consisting of 3+ people, especially in a format as threat-rich as EDH. It is vitally important for me to keep my counterspells to either protect my own combo, or prevent other people from making a game-winning play. The sheer density of tutors that this deck possesses allows it to assemble combos with ease. The density of fast mana accelerates my gameplan, letting me do a lot of things early in the game.
This deck is a significant threat at all stages of the game, and most people who sit down with me realize how toxic Memnarch can be once they realize that he can permanently gain control of any permanent. I usually only cast Memnarch under two circumstances; when I have infinite mana, or when I need to put pressure on the board while I work on getting my combo together. Memnarch is a "Kill-on-sight" commander, and it is normal for people to hold up removal just to kill him when I play him. This deck is very rough to play when I'm not in the mood to get focused down, but it can be very rewarding when I unleash an easy two-card combo to make infinite mana and win the game. It is also fun when I set up a toxic board-state that allows me to steal multiple permanents each turn, such as having Unwinding Clock and Memnarch out with plenty of rocks. My opponents will usually scoop when they hear "On your upkeep, I'll take two of your lands" multiple times. Fewer things bring me as much joy as taking my opponents' lands!
This deck has quite a few number of game-winning combos. Here are the most relevant:
Chromatic Orrery + Filigree Sages = Infinite Mana and Unlimited Draw
Grand Architect + Pili-Pala = Infinite Mana
Grim Monolith/Basalt Monolith + Power Artifact + Walking Ballista = Infinite Colorless Mana and Infinite Damage
Etherium Sculptor + Sensei's Divining Top + Mystic Forge = Unlimited Draw
Isochron Scepter + Dramatic Reversal + Gilded Lotus/Rocks that Produce 3+ Mana = Infinite Mana
I seldom play this deck, mainly because my friends refer to this as a toxic deck. Many of my friends refused to get what they call "Memnarched", as no one likes having their permanents (especially their lands) stolen. I do tend to win relatively easy against low-interaction, slow decks, which are the majority of commander decks out there it seems. It may seem powerful, but having minimal access to boardwipes and permanent removal makes this deck very vulnerable to aggro and go-wide strategies. Also, mono-green really has fun crapping all over this deck, as a well-timed Bane of Progress usually destroys my entire board. Despite all of that, I love playing this deck, even if it is a constant struggle just to stay alive during a game! 😀